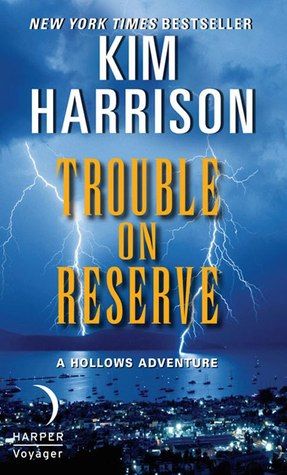 Title:

Trouble On Reserve
Author:

Kim Harrison

Series:

The Hollows, #10.5

•Source:

Preloaded on

Sony Reader App

•Publisher:

Harper Voyager

•Publication Date:

November 6, 2012

Opening Line:

The guy waiting across from me was meaty, but the way his eyes moved in a calm study of the dockyard showed that the thickness about his middle didn't extend to his head.


" The new, free, reader app for the iphone, ipad, and ipod touch has a new, never published Hollows short with Trent and Rachel working together. It's called Trouble on Reserve. The timing of the story sort of puts it between A Perfect Blood and Ever After, but the feeling of it is seriously slanted toward Ever After. " - Kim Harrison



A Rachel & Trent Story!




Trent has tricked Rachel into working security at another job that she would have normally said no to. After Trent finishes his "business" transaction Trent convinces Rachel to let him drive back to the city. On the way they are attacked by an unknown assailant. Is this a shady business deal gone bad or something much worse?
I love it when Rachel and Trent work alone together. They are always more relaxed around each other when there is no one to see it. Their feelings toward each other are also more apparent. In this short story Rachel has serious avoidance issues with her feelings, as she continues to deal with the spine shivering sexual tension between herself and Trent. Trent shows that he really does care what Rachel thinks of him.
When Rachel and Trent are attacked, Trent's primal side comes out trying to protect Rachel. Rachel finally realizes that Trent is willing to kill someone to protect her, even though that's not the man he wants to be.
Favorite Quotes:
I'm still never going to work for you again — cookie farts.
"I thought you said you had some driving courses. Why in the hell did you get out of the car!"

"Because there's no roof and it stalled?" Trent said, refreshingly sarcastic.
"Damn it, Trent, who did you piss off now?"