Title:

Birthright
Author:

E.J. Stevens
Series:

Ivy Granger, #4

•Source:

Author (for review consideration)

•Publisher:

Sacred Oaks Press

•Publication Date:

July 14, 2015

Opening Line:

I grimaced at the noodles currently taunting me with their salty broth and rubbery texture, and pushed the steaming bowl away with gloved hands.




Being a faerie princess isn't all it's cracked up to be...

Ivy must go to Faerie, but the gateway to the Wisp Court is through Tech Duinn, the house of Donn—Celtic god of the dead. Just her luck.

Unable to share her secret with Jinx, and with Jenna called away on Hunters' Guild business, Ivy must rely on Ceff and Torn to lead her to Death's door, literally, and back again. As if that wasn't dangerous enough, there's no saying what horrors lay in store within the Faerie realm. Too bad the Wisp Court is the one lead Ivy has in the search for her father—and possible salvation.

Maybe hiding away and dodging sidhe assassins isn't so bad after all...

My poor snarky, lovable, bad ass private detective. It's been a month since Ivy's almost successful assassination. The Unseelie Court now believes that Ivy is dead, which has forced Ivy into hiding. Only her close circle of friend know the truth. Ivy misses her life, not to mention having money in her pocket. Being "dead" means that Ivy can no longer run her business, visit her old haunts and dating Ceff has become even more complicated.
Ivy is also becoming increasingly frustrated that she cannot talk to the local wisps. Luckily for her summer solstice is only three days away. Ivy has a chance to get her life back. Traveling to Nithsdale will have its consequences; dealing with the fae always does. Ivy will learn more than she ever wanted to know and lose more than she ever imagined.
Birthright is an emotionally dark adventure. The hardest part of Birthright was seeing Ivy so broken. I missed the fact that Ivy's usual support system was not there, I'm sure Ivy did as well. I'm afraid that I cannot tell you much more. The storyline is so beautifully interwoven and I'm afraid that by telling you one part I will be giving away another.
I did have a major fangirl moment when my favorite television shoe was mentioned. What can I say? I'm in major withdrawal and I miss my Daryl.
And you, Princess? You going to stay looking like a character from The Walking Dead?
Ceff, Torn & Forneus are, of course, yummy as always. I thought I'd give them a shout-out, you know to help distract me from Daryl. It's working! Now I'm wondering if you combined two fae and a demon, would you get a super Daryl or just Daryl?
So, I will leave you with this. Birthright is a definite must read, darker than the other Ivy Granger novels, and did I mention a must read? As always I am eagerly and impatiently awaiting the next installment of the Ivy Granger series.
Favorite Quotes
But after a battle with flesh eating faerie horses that made kelpies look like My Little Pony, our client base had shifted.
Anyone else wondering when we'll hit quick sand, or get swallowed up by a sharknado?
Apparently, it was possible to get motion sick while riding a horse through a cavern of moving walls of water. Who knew?
"Oh Hell no. I still have one life left, lady, and while I am tasty and oh so lickable, I am not on that things menu."

"You don't miss a chance to be a pompous pervert, do you?"

"Now why would I do that? Women everywhere would lose all reason to live. Keeping my lascivious thoughts to myself would be a travesty of epic proportions."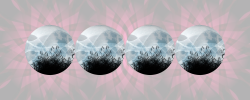 *Disclaimer: I received this Advance Reading Copy, from the author, for review consideration.
This did not influence my review in anyway.